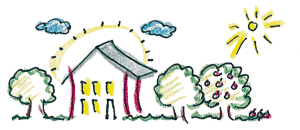 The Inspiratorium is MoveMentor's new, innovative and sustainable process centre built on a restored traditional farm on Samsø.
Here the facilities are designed to support the development processes with creative tools and installations. Creating a unique synergy between form and content. Only one group at a time ensures absolute focus on your development process.
Facilities
Two large teaching rooms of appr. 80 square meters – with lots of equipment, tools and props for creative workshops
Lounge/library with oversize sofas and wood burner
10 rooms (of which 5 are doubles) and 4 toilets/4 bathrooms in total
Beautiful old garden, vegetable garden and food forest where we get berries, fruits, herbs and vegetables for "Wild Food" – cooking teambuilding exercise
Rock platform for stone stacking exercises (focus training)
Many possibilities for walks or drives in the beautiful nature of Samsø, trips to the beach etc.
Teambuilding installations
Food and Drink
The famous and infamous restaurateur Søren Ørum is our chef. Søren is also facilitating "Wild Food" – a duel on cooking abilities for teams. A very intense, fun and enlightening food experience. Most of the raw materials we get from our own vegetable garden and food forest established according to organic and permaculture principles.
Transportation
The ferry to Samsø is 1 hour from Hou in Jutland and 1 hour 50 minutes from Kalundborg on Sealand. If you want to make optimum use of the travel time you could use the trip for a team or department meetings, answering emails individually etc.
The Inspiratorium was finished in November 2013 and is priced appr. 25% below more traditional conference facilities.
Sustainability
The Inspiratorium is self sufficient with electricity from PV's and heating is achieved with CO2 neutral wood chips. Food is as organic as possible and we use as much fresh produce from our own garden or from organic farmers on the island as we can find.